Klosteraufenthalt | Übernachten | Tagen | Kloster Drübeck | Evangelische Häuser | Harz
Welcome to the
Evangelisches Zentrum Kloster Drübeck (aka Kloster Drübeck)
Whether you are stopping-by on a hiking tour or staying for a conference, whether you are looking for peace and reflection, simply want to take a holiday or want to celebrate a festive occasion – with us you will find the ideal conditions in a place where authentic hospitality, spiritual architecture and magnificent garden art all come together.
Greetings and welcome to Drübeck Abbey!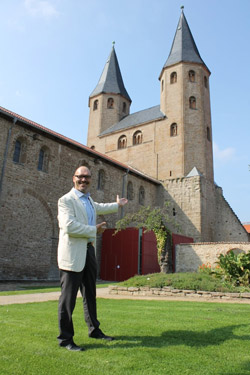 It is said that everyone who has ever been a guest at Drübeck Abbey carries a little piece of it home with them in their heart. We look forward to welcoming you and to sharing memorable moments and inspiring impressions together.
With us you will find the optimal balance between activities in the conference area and relaxation as well as contemplation and reflection. In addition, we will spoil you with our regionally influenced cuisine and culinary highlights. Our staff are happy to advise you on how to turn moving moments in your life, birthdays, family celebrations or anniversaries into lifelong, beautiful memories in the family atmosphere at Drübeck Abbey.
My tip: Find out about our wide range of events. Escape the grey of everyday life during our concerts, exhibitions, guided tours of the abbey and readings, or simply unwind in our abbey café with its feel-good ambience.
We look forward to your visit!
Karl-Heinz Purucker
Your host and managing director of Kloster Drübeck